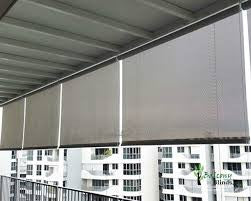 Manual Outdoor Blinds
Regular price $270.00 Sale
The manual outdoor blind provides primarily shades against the sun and heat. The simple clutch/spring chain system couple with different wind guide options has always been the most value for dollar choice.
Prices includes installation from height below 3 meters and standard 2mm wind guide set. Maximum Width permissible is 2.5 meters. 
Additional charges applies for high / false ceiling : Price subject to on site visit.
Installation terms and condition applies.
Minimum per set of blind 30 psf
Promotional rate minimum total area 120 sq ft and above.